Are you Planing to repaint your Car?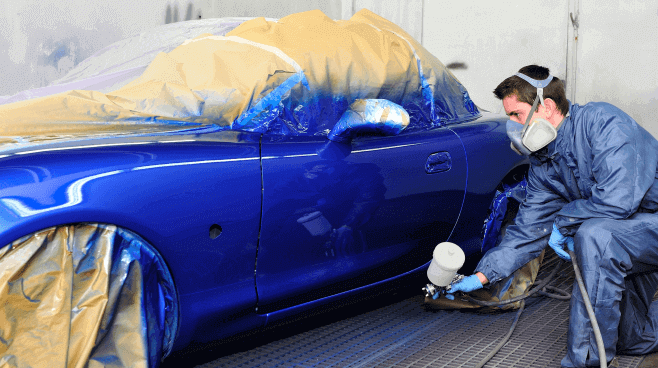 Vehicles are painted to help prevent rust, but there's also a visual appeal to their exterior color. Car paint comes in a variety of distinctive colors and wraps and can be customized in all sorts of ways. Whether your car's clear coat is peeling or if it has rust spots you want to cover up, you'll want to be sure you follow these specific steps from CAR USTAD painting services to get the best deal and high-quality work.

• Ask for the required time
Some vehicle paint shops boast a turnaround time of three days or less, but you should typically anticipate your car to be in the shop for at least a week for quality work to be done. Modern paint can't bind to some older paints due to oxidation and blurring. Therefore, it takes some hard work to remove the existing layers of old paint to smooth the service and prepare it for the new paint.

• Request a budget estimate first
The cost for a new paint job on your car can depend on many variables, including prep work required, the number of parts that need to be painted, and the quality of the paint you choose. When asking for an estimate of the total cost. Additionally, if you wish for the shop to repair any dings or dents, that will need to be taken into account, you may need to have multiple parts covered to ensure the new exterior looks professional and high quality.

BEST TOUR AND TRAVEL PACKAGES Book Now

• Remove your possessions when painting your vehicle
A shop will typically open the doors to spray interior parts of the vehicle if needed. As such, you should remove all valuables and interior add-ons from your car before submitting it to the paint shop. Not only does this protect your possessions, but it also clears the way for the painters when they're maneuvering in and out of your vehicle.

• Hire professionals for best output
While it might be tempting to get a "good deal" from a random guy offering car painting on social media, you'll want to be sure you hire a professional service for this job. Your vehicle costs Lakhs of rupees and the last thing you want to do is get it back looking worse. A professional car painter will have the proper tools and high-quality paint to ensure your car looks amazing when completed and for many years to come. Additionally, some professional shops even have wraps that you can choose from to add even more customization to your ride.

• Ask for a warranty
Painting the exterior of a car can be a costly experience. With that kind of money on the line, you should ask the shop you hire for a guarantee or warranty for the job. Most paint companies already offer a warranty for their products, but it doesn't hurt to ask the shop for some extra peace of mind to cover their work.

For the best Car Denting and Painting Service in Gurgaon, you visit Car Ustad...

Contact us Today !!